posted on 26 Jun 2010 19:59 by jjapha in Diary
I has been a month since I left US and head back to Thailand. It was not fun to leave the office for 2 months. When I saw a big pile of work waiting for process, my head was blank and stumbly cleared them out. Anyhow, life must go on, I will do my best.
One thing I have learnt from working in US is that managint time. The people I worked with have a full hand of work, yet they have life. They use their time in the office wisely, no chatting, no snack, no cheating office hour. They work 8 hours and then have life at home, excercise, hobby, spending time with their family and no work on weekends.
I would like to do the same, but at the end, I end up working 14 hours and working at home again. (I reach office at 6.00 a.m. and leave office at 8.00 p.m. such a fool woman I am)
I will try to get my life back again next week. I hope I success, I need my life.
To remind the good time in New Jersey, I put this entry before the other three trips that I have left out which are the Philly trip, Trenton trip and DC trip.
I have learnt many things from these people and I will bring them to improve the system in Thailand, and I will make it true no matter how long it will take.
The foggy day in Princeton, the weather is around 40 degree (equal to 8 celcius). Where I have to wait for the 600 bus to go to Trenton.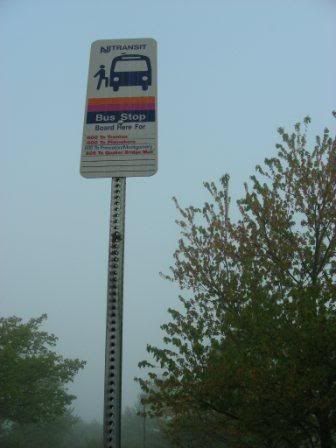 This is my cube at the New Jersey department of banking and insurance.
I got a surprise by the bunch of flowers on my desk. Thank you very much to Marygrace.
The view from the window at my desk, one day it's blue, one day it's grey.
Maryann is my mentor, she is so enegetic. Although she is shorter than me (and about 25 year older than me) she walks so fast and get everything done without delay.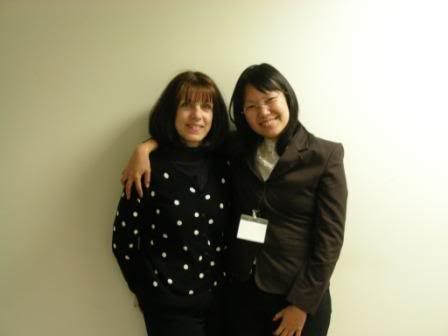 Robert is head of this house (office of solvency regulation). He is supposed to be my mentor but because he is busy man, he assign Maryann to take care of me.
Can you note to upper window outside Robert's room, the one on the right-hand side. There is a nest. It the red-tail hawk nest. I saw her on the first day I was there. However, she lost three eggs (she might drop them or some predators took them) then she left the nest and I didn't even have chance to take a picture of her.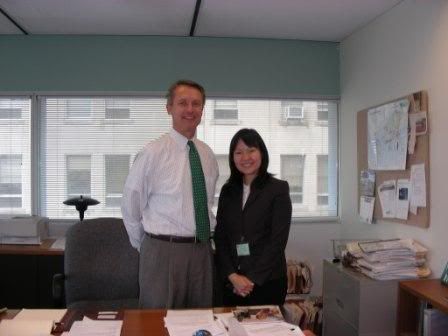 I spent the first week with Health analysis unit. Frank is the boss here. He said that I came here to pick his brain (actually I couldn't take that much, he has so bigggggg brain). The first question I shot him is that how we can handle the bad guy and when we should pull the plug knowing that many people will be suffer from every choice we choose. He said it's very difficult question. I still don't get the answer directly from his word but I get from his work. We need "perserverance", which it seems that I am quite lack of it.
Russell takes care of L&H and P&C. He often rocks his chair when he speaks to me, I feel like he gave the image of Santa Claus when he is doing so. He is an amazing person that can review almost 100 companies, he told me that he goes through every pages of the returns and with his longgg experience he can see the problems or what seems not right to him.
He also the dog lover. He has his dog pictures on his desk instead of his wife or his family picutures.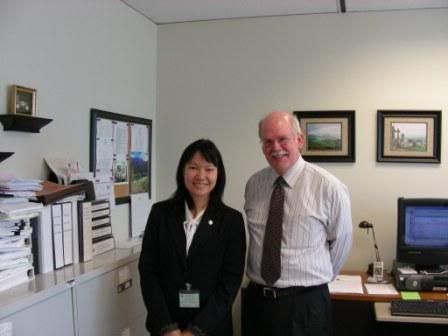 Here comes the richest guy in this office (he really is). Crosby takes care with the troubled companies when the dobi put one under the adminstrave supervision, or rehabilitaion, or liquidation. Without him, I don't think I will ever have chance to sit in the sport BMW. When I saw his name on the plauge, I recall my friend, carol. Her last name is crosby and now I know that his name is from his mother last name. Maybe his is a relative of carol.
Kwamme helps people her in calling my name. Because they can call Kwamme, so it's not that hard to adjust a little biit to kwan. I even have my friend who call me Kwai (which means buffalo in Thai), so I'm so glad that no one called me Kwai here. Kwamme has been to Thailand and he said he like the purfume that originally made in Thailand and he could not find it anywhere else. I think he might refer to น้ำอบ, who knows?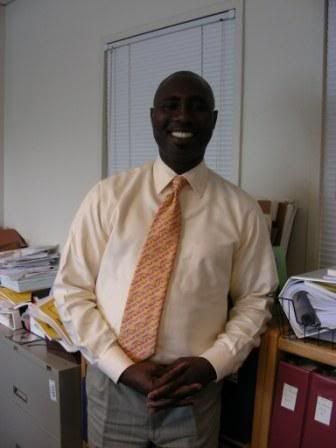 In addition to picking the brain of people in the office, Maryann gave me chances to see how we exams the business. I went to the very well risk management companies and also many other places.
The company prepares room for the examiners to work with all facilities.
Besides being in charge of the work, he had to pick me up from the office to go to the company and drop me off to get the bus back to Princeton. Bill is the basket ball coach, he is a very sportman. One thing I learnt from Bill is walking after lunch if you don't want to get overweight.
Because New Jersey is very very big state.The examination teams have to go very very far away from the office. Therefore we never see the teams unless they come to the office to wrap up or prepare for the next exam. This team I spent time with is the surplus line unit. It took almost 2 hours and a half to get us to the company (by driving 80 miles/ hour) and they are not allowed to stay over and get only 37 cent per mile for the gasoline reimbursement!!!! (left to right : Edward, Willam, Jeffry and Dino)
Going out for work = field trip :)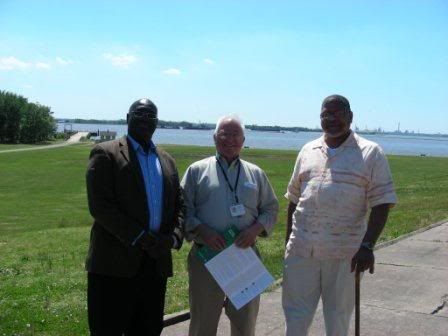 Over the Delaware river, it's the Delaware state.
Anothe field exam near the beach!!!! (from left to right : Druv, Steve, (another)Bill)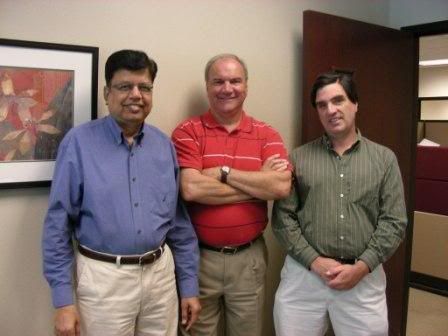 Steve is the chief of examiner. I feel like I'm with the old friend because he reminds of Mr.Larry, who I spent time with when I was in Florida. I told Steve about this too, he said his ancestors are Native Indian, so he and Mr.Larry might look alike because the same origin. Unfortunately, Mr. Larry's ancestors are Irish, now I don't know why I feel they are in common.
At resturant in Longbrench.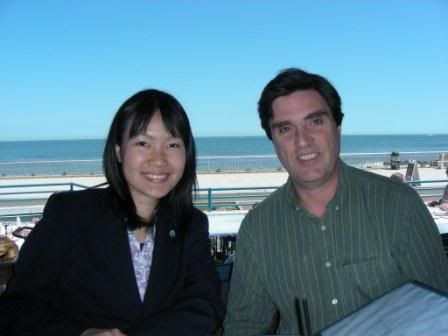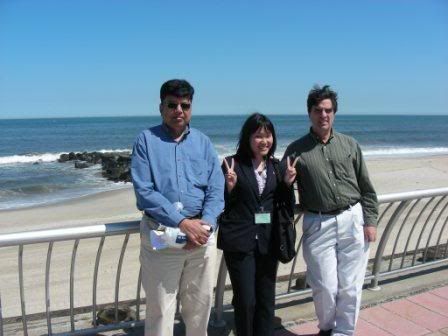 Steve took me from my hotel to the company and on the way we talked about his sons. He told me that his youngest son was born on May 13,1979 and I said we were born on the same month and year. When I slipped out about my birthday which I intentionally didn't tell anyone (but the surplus line team knows because we talked about sodiac)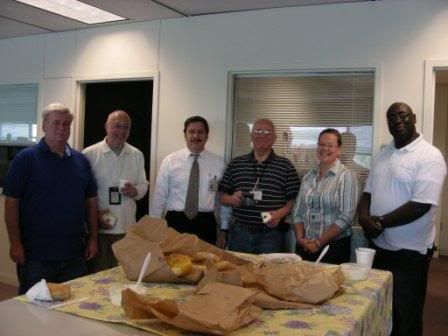 so there was a party on my birth day.
(left to right : Rex, Fred, George, Dino, Marygrace, William)
They took me out to the Italian resturant
(left to right : William, Crosby, Dino, Jeffry, Patrick and Lisa)
and it's first time in 20 years that I have the birth day cake!!!! which the waiter and waitress sang "Happy Birth Day" song for me. (I stopped having the birh day cake since I finished the elementary school)
The birth day card and the birh day /farewell gifts.
I met many nice people there, well they are not all nice (out of 500 people, who can expect all nice people), but I spent time with many nice people (though some are mean to me). Thank you to them that share me knowledge, teach me and give me a chance to work (I know that some state don't allow intern to work or on the other hand throw the work that they don't want to do to the international interns). US is not my favorite country, actually, no place I like besides my home. I'm blessed to see the world, to learn from others' experience. Now it's up to me, whether I will do something or I just waste time and money of Thai people.
It's so hurt when I got a phone call with anger and curse word, ending up with we live on their tax and still let the people suffer. There are 64 million people in Thailand, we can't please all people but what we can do it trying to do the best we can, isn't it?
edit @ 26 Jun 2010 22:09:27 by duck-life